The Executive Women Network (EWN) in collaboration with Newmont Ghana and Phyto-Riker (GIHOC) Pharmaceuticals Ltd has donated clothing, bedding and medical essentials to support mental healthcare delivery in the Pantang Hospital, Accra.
The items donated include; 93 set of Bedsheets and pillow cases, 50 pillows, 68 towels, 700 rolls of toilet paper, 20 gallons of Cleaning Solution, 20 gallons of Disinfectant, 20 gallons of Hand Soap, 10 gallons of Rubbing Alcohol, 120 Hand Sanitizer Spray bottles, 4 cartons of pure hand sanitizer and rubbing alcohol, used clothing and household items. The medical essentials donated by Phyto-Riker Pharmaceuticals were 10 packs of Diazepam, 4 cartons of Ritonic Syrup, 4 of cartons PR Zinc Plus kits, and 4 cartons of Fenamol.
Speaking on the donation, the Chairperson of the Executive Committee of EWN, Mrs. Eunice Biritwum said the donation forms part of EWN's activities to mark its fifth anniversary.
"This year, we are celebrating our fifth anniversary under the theme: 'Celebrating Women of Impact' with a tagline, 'We See You. Be Bold'. The essence of this theme is to take stock of our five-year journey, acknowledge and recognize the contributions of our amazing EWN women, and to also give back to the community".
"We do recognize the importance of giving back to our community. We do know that giving promotes a sense of cooperation and strengthens our ties with others, and that is why we were honored and happy to come together with Newmont Ghana and Phyto-Riker towards the donation at Pantang", she added.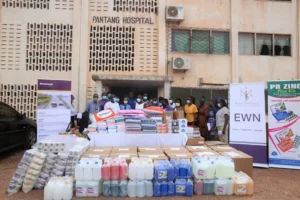 Commenting on the partnership, Regional Vice President, Human Resources at Newmont Ghana, Awo A. Quaison-Sackey expressed her gratitude to EWN for partnering Newmont Ghana for a worthy cause such as this.
"Our new normal-living with COVID-19, has further increased the stress burden in our world today. With people losing loved ones and colleagues, being forced out of their jobs and reducing physical social interaction, we must pay more attention to mental health than we have ever done else the consequences will be very dire. Today's donation is another way of reducing the burden on vulnerable patients of this facility by providing clothing, bedding and medical essentials. To the Executive Women Network, for their sense of compassion and kindness, I say 'thank you' for partnering with us on this worthy cause. To Phyto-Riker, thanks for partnering with the Executive Women Network".
On her part, Chief Executive Officer for Phyto-Riker (GIHOC) Pharmaceuticals Ltd, Theresa Yamson said her outfit is elated to support with specific pharmaceutical products.
"On behalf of the management and staff of Phyto-Riker, we are delighted to be here this morning to support the medical personnel and patients of the hospital with specific pharmaceutical products that have been manufactured here in Ghana to improve the health and mental well-being of our cherished clients. We are even more excited to be doing this in partnership with Newmont Ghana, and the Executive Women Network of which I am also a proud member".
EWN is a non-profit organization made up of over 170 phenomenal women, comprising over 120 corporate women in senior management and executive positions of private organizations, and over 50 women entrepreneurs of well-established businesses in Ghana.